Ferrotec's High-Power Peltier Thermoelectric Cooler Modules
The Peltier coolers in Ferrotec's High-Power Thermoelectric Module series are designed to maximize heat pumping capacity. These single-stage TECs enable increased cooling capacities and efficiencies in a standard thermoelectric cooler footprint. The high cooling density of these Peltier coolers enables high-performance heat exchangers in smaller, more efficient sizes.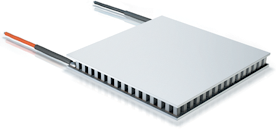 Technical Terms
The terms below are used in tables at THot=50°C:
I Max
Maximum input current in amperes at Qc=0 and ΔT Max
VMax
Maximum DC input voltage in volts at Qc=0 and IMax
ΔT Max
Maximum temperature differential in °C at Qc=0 and Imax
QcMax
Maximum heat pumping capacity in watts at IMax and ΔT=0
THot
Temperature of the TEC hot side during operation
View the Thermoelelectric Resource Guide
View
Do You Need More Information?
Contact your local Ferrotec thermal solutions representative.